About Burundi Kiryama Washing Station
Latest arrival November 2013.
Kiryama is the name of a private washing station / wet mill in the Kayanza region in extreme northern Burundi, near the border with Rwanda, where this coffee is collected and processed. The Kiryama station is part of the Sogestal Kayanza, a management company that oversees a group of washing stations. There are sogestals in each of the primary growing areas. In Burundi all coffee is processed and sold at the washing station. It's where washed coffee processing takes place - skin removal, fermentation and sun dried on raised beds. Traditional processing methods here pulp the coffee and "dry ferment" it for up to twelve hours, then fully wash with clean mountain water for another twelve to twenty four hours, and finally soak for an additional twelve to eighteen hours before being dried in parchment on raised beds. The beans themselves, grown exclusively by small area farmers, are all Bourbon varietal or Bourbon derivatives such as Jackson and Mibirzi. The Kiryama washing station is at 1760 meters, about 5800 feet.
The overall quality of the coffee in Burundi, particularly in the northwestern hills, is high and improving steadily as premiums are being paid to farmer members of each washing station. Since coffee marketing legislation was enacted in 2008, direct sales contracts became permitted between Burundian producers and international coffee buyers, roasters and importers. Further, the legislation permits the payment of a quality premium to those responsible for producing "specialty" coffee (producers, washing station management teams and dry millers). Coffee must be harvested only when ripe and be processed promptly. This follows a similar model in Rwanda where coffee quality has also seen major improvement in recent years.
In Burundi the majority of coffee is grown by subsistence farmers. In fact, about 800,000 families in this small country of only 9 million people, grow or are involved with coffee; it accounts for 80 percent of Burundi's export revenue. Almost all of it is Arabica and of the Bourbon varietal. Farmers grow crops for their own food supply but also grow some cash crops, such as coffee. Most farms have between 50 and 250 trees, only enough to a couple of sacks of coffee in total. The coffee, once picked, has to be rushed to the local washing station.
Specialty coffee has been growing in Burundi in recent years because it earns farmers more money. Indeed natural conditions augur well for growing top coffee as there is volcanic soil and mist covered mountains, all set almost astride the equator. Selected lots can be had, often without pedigree, but with a very sophisticated palate - a terrific situation for savvy consumers. Great quality at attractive prices. High grown coffee from Burundi, particularly those from Kayanza and Ngozi provinces are making a name for themselves as single origin espresso coffees.
Cup Characteristics:Very decent cup quality and suited to both light and dark roasts. As a dark roast this coffee has the signature bittersweet, caramelly flavors imparted by the sugar transformation during longer roasting. The darker roast trades off some of the brighter, floral notes of the lighter roast. This coffee has a great deal of depth. Flavors are of dark fruits, plum, prune, raisin are layered. Substantial body but with appropriate piquancy. Very classy Bourbon character and extremely well balanced. Long finish.
Burundi coffee facts:
Population: 8.98 million people
Coffee Production: 515 thousand bags (60 kg) or 68 million pounds. Arabica is 96% of production.
Country bag capacity: 132 pounds - 60 kg
Domestic Consumption: Very little.
Coffee Export: 510 thousand bags (60 kg)
Cultivated Area: 60,000 hectares (about 150,000 acres)

Harvests: February - June

Arabica Introduced: Arabica introduced by the Belgians in early 1930s.
Specialty Coffee Regions: The western and central regions.
Grades: Superior grades of washed coffee are Ngoma Mild, AA and A based on size and number of allowable defects. Average moisture content is 11.5%.
Farms: Entirely small holder based activity with over 800.000 families directly involved in coffee farming. Farms are very small with most only 50 to 250 trees per farm. Coffee is cultivated at altitudes ranging from 1250 and 2000 meters above sea level.
Botanical Varietals: Bourbon almost exclusively but very small quantities of Jackson and Mibirizi.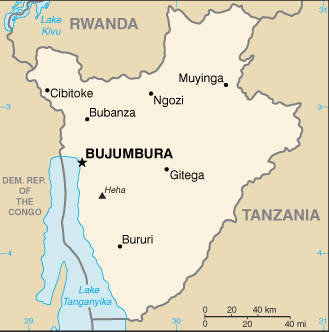 Comments
Since land is scarce in small Burundi it is more economically desirable that the specialty coffee be developed for its improved income. At present there are about 140 washing stations where local subsistence farmers can bring their freshly harvested coffee cherries for processing. Most processing is traditional washed method, with some semi washed being done where washing stations do not yet exist. Burundi is landlocked between Rwanda, Tanzania and the Democratic Republic of Congo with a significant portion of its land adjacent to Lake Tanganyika. Coffee from Burundi is attracting increasing attention from the specialty coffee industry, as has neighboring Rwanda.