The Fresh Roast Plus 8 is being replaced by two new models with the first shipment now expected in early January. The new models address issues that users have had with the previous model, an entry level roaster on the market for many years. Both new models will cost more than the predecessor, however, they remain quite reasonable.
Model SR300:

This is a larger version of the former Plus 8.
Twice the roasting capacity as before, 120 grams, roughly 1/4 pound.
Digital display. Maximum time on the control is 9.9 minutes.
Has three buttons: Up, Down, Cool.
At any point during the roast 6 seconds can be added for every tap of the Up button; likewise, the Down button takes away time in 6 second increments.
Tapping the Cool button overrides the timer and places the roast into a 3 minute cooling cycle.
Model SR500 – All of the above features plus:

Three temperature settings that be adjusted any time during the roast. High temp is 490 degrees; Medium 455, Low 390.
A separate Fan Speed Control has been added that allows fine tuning of the roast. Generally, you would want the highest speed at the start of the roast when beans are heaviest and have yet to lose moisture. The would help keep beans moving. Later in the roast lower speeds would be desirable.
In addition to the three buttons Up, Down and Cool are fan speeds Low, Medium, High, and, a variable fan speed control knob.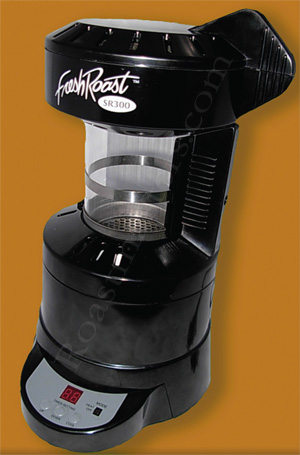 Fresh Roast SR300

Fresh Roast SR500
We will be selling these roasters at the lowest allowable price, $109 for the SR300 and $159 for the SR500. Considering the improvements, the SR300 is only about $20 more than what the Plus 8 was selling for. We have no more of the old Plus 8 model remaining, so there will be no stock here until new models arrive. It's a shame both the Fresh Roast and the competing i-Roast2 are not available this holiday season as both companies are both missing seasonal shoppers. Fortunately, we are in good shape with the deservedly popular Behmor 1600 as well as other roasters.