As of November 20th, Behmor 1600 roasters are shipping with a new, improved low profile chaff tray. The new chaff tray significantly improves bean visibility, enhances airflow for improved cooling, as well as collects chaff better than its predecessor.  It greatly reduces the chance of chaff ignition, save for user error.  With this tray you have an unobstructed view of beans roasting when you look through the roaster's door.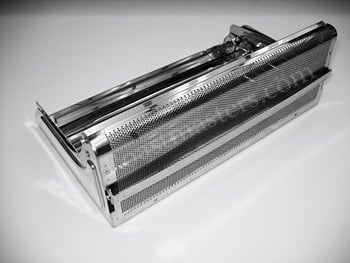 The other significant change with the latest shipment is there are no longer two sizes of roasting grids.  Instead, the grid formerly known as the 'small grid' is now the standard issue grid.  Originally designed with a slightly closer grid pattern to keep smaller or irregularly sized beans from falling out, it became obvious at some point that you could roast anything with this grid.  So, the larger spaced grid that used to come with the roasters has been discontinued.
We will continue to offer the small grid as a separate item for owners of previous generations of Behmors.  Likewise, we now offer the new chaff tray as a separate it for purchase although they are in short supply for the next couple of weeks.