Kenya Rukira AB
Available
About Kenya Rukira AB
Arrived mid May 2021, new crop in grain pro.
This Kenya AB lot was produced at the historic Rukira Farm, owned and operated by Kenya's Coffee Research Institute. Kenya has a long standing history in coffee research and this coffee highlights the work that is still ongoing. In 1908, the British colonial government appointed the country's first Coffee Entomologist, charging them with expanding and improving production. In the early years coffee research was undertaken at the Scotts Laboratories (currently the National Agricultural Laboratories) on the outskirts of Nairobi. In the years between 1934 and 1963, Scotts Laboratories developed multiple cultivars, including various SL varieties, mostly based on Moka and Bourbon types brought by the Scotch and French missions to Kenya. Some of the more successful SL (Scott Labs) varieties are still widely grown in Kenya today, including the highly regarded SL 28 and SL 34.
In 1944, as part of continued investment, the government purchased Jacaranda Estate near Ruiru and established the Coffee Research Station there, using the land for the development of new cultivars and agricultural techniques. Rukira farm was established in 1949. Laboratories were constructed and completed in the same year. After Kenya's independence was gained in 1963, at the requests of coffee farmers, the Government handed direct responsibility for coffee research to the farmers themselves. This change of responsibility culminated in the Coffee Research Foundation in 1964. Jacaranda and Rukira uses their production to help fund the Foundation's activities. The sale of this lot, therefore, has directly gone towards continued improvement in Kenyan Coffee.
The two farms were initially administered independently, with Jacaranda Farm being used primarily for research trials. Rukira farm has, for many years, been commercially run with the goal of generating revenue to support the research arm of the institute. It has also acted as a demonstration farm charged with the responsibility of running model sites for teaching good agricultural practices to farmers around the country. In the early 1990s, the two contiguous farms were put under the same management and expanded to include both commercial and research activities. All coffee sold by the Institute is under the Rukira name.
The Coffee Research Institute has continued to produce some of the best coffee on offer from Kenya today. They employ 5 permanent supervisors, but casual workers are employed year round as tasks necessitate. At the peak of the main harvest, some 300 individuals are hired for picking alone!
All agricultural activities executed on the farms - from pruning to fertilization - are absolutely 'best practice'. The same holds true for processing. During the harvest, only the ripest cherries are picked at each pass. These are delivered the same day to the 'factory' (called washing stations or wet mills elsewhere), sorted to remove any damaged or under ripe cherries, and pulped. The pulped coffee is then fermented for around 12 hours before being fully washed in clean water pumped from the Ruiru River to remove any remaining mucilage. Coffee is then dried on raised beds for around 2 weeks until humidity reaches 10.5%. From there is off to conditioning bins to rest, stabilize and harmonize flavors.

In 2007, the farm won the Best of Harvest annual EAFCA competition held in Addis Ababa, Ethiopia. The coffee is sold through the Nairobi Coffee auction and continually realizes high prices due to its quality. The principal objective of the CRI is to promote research into and investigate all issues relating to coffee. In addition to its historic achievements - including the development of the SL28 and SL34, CRI provides technical advisory and training services.
They also run a coffee college for producers and cooperative leaders interested in improving farm management. Sustainability and Women in the Coffee Business classes seek to expand the profile of Kenyan coffee farmers.

The AA, AB and other grades used to classify lots in Kenya are an indication of screen size only. They are not any indication of cup quality. AA grades often command higher prices at auction due to being slightly larger beans, however, AB grades from well run farms may have better cup quality.
Country: Kenya
Farm: Rukira Farm
Owner: Kenya Coffee Research Institute
Region: Kiambu County
Municipality: Ruiru
Altitude: 1,500 to 1,600 meters
Varietal: SL28, SL34 and Batian
Process: Fully Washed
Drying: On raised African beds
Harvest: March-July (Main), September-December (fly)
Cup Characteristics: Aromas of brown sugar and brown spices. Flavors of dried fruit, black tea, black currant, honey and plum. Viscous, sweet, and juicy.
Roasting Notes: Like most top Kenya coffee, these beans are hard and dense and can be roasted to a variety of darkness levels. Most floral and delicate notes will be presented at City+ to FC range. The delicate nuances of this coffee will present themselves at lightly roasted levels but be sure to have a full first crack.

Kenya coffee facts:
Population (2006): 34.7 million People
Coffee Production: 880,000 bags (60 kg)
Country bag capacity: 132 pounds - 60 kg
Domestic Consumption: 50,000 bags
Coffee Export: 850,000 bags
Cultivated Area: 127,000 Hectares (314,000 acres)

Harvests: 2 per year
- Main crop October to December
- Fly crop June to August

Arabica Introduced: Introduced from Ethiopia via Yemen at the end of the 19th century, by the Fathers of the Holy Spirit Congregation. Bourbon varietal introduced from Reunion in 1901 by missionaries. Kent varietal introduced early 20th century from the Indies.
Specialty Coffee Regions: North and northeast of Nairobi; high plateaus surrounding Mt. Kenya. Soil is volcanic.
Grades: AA Plus, AA, peaberry
Farms: About 350,000 farms with an average of 0.2 hectares (about 1/2 acre). 8 major preparation cooperatives.
Botanical Varietals: Bourbon, Kent, various hybrids (SL-28, SL-34, Riuru 11), Blue Mountain (from Jamaica).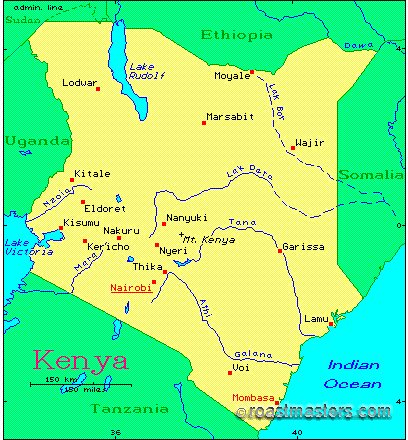 Comments
One of the great coffee producers. Coffee accounts for 27% of the country's exports and half of their agricultural output. Shading, by banana trees, is a common practice.
Kenya has a weekly auction system that has been in place for many years. It does not provide transparency of revenues to growers and the system is said to be flawed by a complex web of middlemen. There are allegations of corruption as well. The government is working to develop a more direct model whereby growers can offer their coffees more directly to foreign buyers thus reaping a better price.