Tanzania coffee facts:
Population (2006): 39.3 million people
Coffee Production: 490 thousand bags Arabica (60 kg)
Country bag capacity: 132 pounds - 60 kg
Domestic Consumption: Almost none.
Coffee Export: 490 thousand bags
Cultivated Area: About 200,000 hectares (nearly 500,000 acres)

Harvests: July - December for Arabica

Arabica Introduced: Arabica coffee was introduced as a commercial crop in 1900 on the slopes of Mount Kilimanjaro. It now accounts for nearly 75% of the 50,000 tons of coffee that Tanzania produces every year. It is now cultivated in practically all the highland regions of the country.
Specialty Coffee Regions: The slopes of Mount Kilimanjaro and Mount Meru.
Grades: AA, A, PB
Farms: 85% of production is by smallholders.
Botanical Varietals: Kent, Bourbon, Typica, Typica/Nyara, Colombia Mild.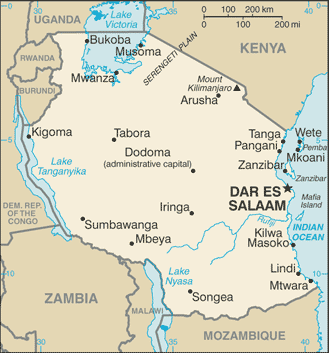 Comments - Tanzania is situated 3 degrees south of the Equator in East Africa facing the Indian Ocean. It borders Kenya, Uganda to the North, Rwanda, Burundi to the West; Zambia to the south-west, Malawi, Mozambique to the South. Coffee from Tanzania can share similarities with Kenya though it is often not as refined. Peaberries, which are separated during production, are often the most prized Arabicas. Coffee is sold via an auction system similar to that in Kenya, however, both systems are emerging to higher levels of free trade which can better reward growers making the effort to produce top coffees.