Rwanda coffee facts:
Population (2006): 8.85 million people
Coffee Production: 510 thousand bags (60 kg)
Country bag capacity: 132 pounds - 60 kg
Domestic Consumption: Very little. Traditional tea drinkers.
Coffee Export: 510 thousand bags (60 kg)
Cultivated Area: 28,300 hectares (about 70,000 acres)

Harvests: March-July

Arabica Introduced: 1904 by German missionaries.
Specialty Coffee Regions: The western and central regions.
Grades: Superior grades are A1, A2, A3 based on bean density.
Farms: many thousands of small farms (under one acre).
Botanical Varietals: Bourbon and typica.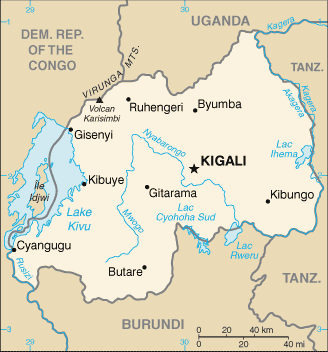 Comments
Rwanda is a relative newcomer to specialty grade Arabica coffee production though coffee has played a major role in the economy of the country with coffee accounting for nearly 65% of export revenues. The country's bloody, genocidal civil war wrought economic and human devastation from 1990 until 2003, when international assistance and political elections brought some degree of stability to the country. Investment in the country's economy and crop production have aided in this tenuous stability.