Kenya coffee facts:
Population (2006): 34.7 million People
Coffee Production: 880,000 bags (60 kg)
Country bag capacity: 132 pounds - 60 kg
Domestic Consumption: 50,000 bags
Coffee Export: 850,000 bags
Cultivated Area: 127,000 Hectares (314,000 acres)

Harvests: 2 per year
- Main crop October to December
- Fly crop June to August

Arabica Introduced: Introduced from Ethiopia via Yemen at the end of the 19th century, by the Fathers of the Holy Spirit Congregation. Bourbon varietal introduced from Reunion in 1901 by missionaries. Kent varietal introduced early 20th century from the Indies.
Specialty Coffee Regions: North and northeast of Nairobi; high plateaus surrounding Mt. Kenya. Soil is volcanic.
Grades: AA Plus, AA, peaberry
Farms: About 350,000 farms with an average of 0.2 hectares (about 1/2 acre). 8 major preparation cooperatives.
Botanical Varietals: Bourbon, Kent, various hybrids (SL-28, SL-34, Riuru 11), Blue Mountain (from Jamaica).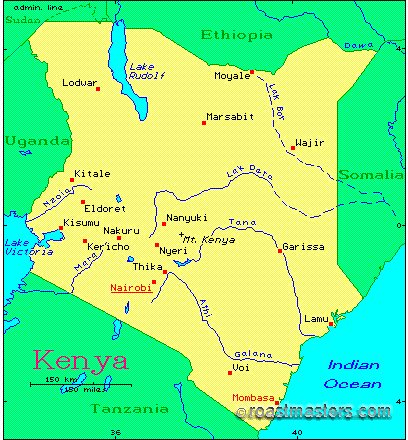 Comments
One of the great coffee producers. Coffee accounts for 27% of the country's exports and half of their agricultural output. Shading, by banana trees, is a common practice.
Kenya has a weekly auction system that has been in place for many years. It does not provide transparency of revenues to growers and the system is said to be flawed by a complex web of middlemen. There are allegations of corruption as well. The government is working to develop a more direct model whereby growers can offer their coffees more directly to foreign buyers thus reaping a better price.