Costa Rica coffee facts:
Population (2006): 4.1 million People
Coffee Production: 1.7 million bags (60 kg)
Country bag capacity: 150 pounds
Domestic Consumption: 380,000 bags
Coffee Export: 1,320,000 bags
Cultivated Area: 82,500 Hectares (203,775 acres)

Harvest:
September to February

Arabica Introduced: Coffee was first introduced into Costa Rica in 1779 from Cuba. First exportation was in 1820.
Farms: About 32,000, over half are small farms (less than 1 hectare).
Specialty Coffee Regions: Tarrazu, Tres Rios, Central Valley, Pacific Central, South Pacific

Botanical Varietals: Mondo Nuevo, Hibredo/Tico, Villa Sarchi, Geisha, Caturra, Catui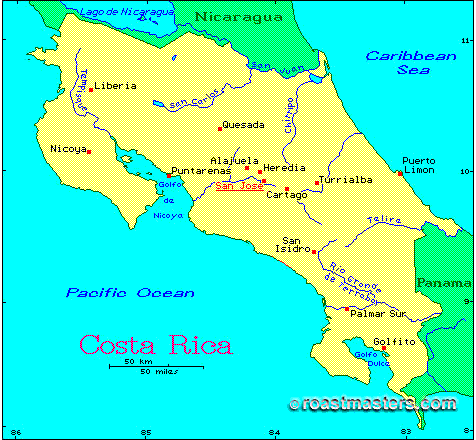 Comments: Coffee is grown in Costa Rica on both the Atlantic and Pacific slopes at altitudes between 1600 and 5400 feet. The highest grade is called Strictly Hard Bean, grown at elevations over 3900 feet. Costa Rica produces some exceptional coffees, renowned for their brilliance, balance and complexity.