About Costa Rica El Encino Natural
Close out. This 2017 has been stored in grainpro and is in excellent condition. We are closing it out to make room for new arrivals. Buy 5 pounds or more and get special pricing.
This natural processed coffee comes from the El Encino farm located in micro-region of Tarrazu called Dota at an elevation of 1900 meters. Both the farm and the micromill where the coffee is processed, called La Bandera (The Flag in English), are owned and operated by Diego Hidalgo. Up until 2014 Diego and his father sold their coffee to the Coopedota Cooperative where their cherries were blended together with harvests from other neighboring farms. After they built their own micromill on premises and spent countless hours learning how to best process their own coffee, one of their lots placed in the 2015 Costa Rica Cup of Excellence competition.
We discovered this coffee while at origin in Costa Rica this past April and of all the coffees on this particular table, this one really stood out as a special cup full of flavor and complex notes. A personal favorite of the natural processed coffees that we brought back.
This lot is a Yellow Catuai varietal and a full natural processed coffee, meaning the cherry is left intact during processing to give it a nice fruity flavor profile. We are eager to see what the future holds for this very promising farmer and micromill.
Farm: El Encino
Micromill: La Bandera
Varietal: Yellow Catuai
Processing: Natural
Altitude: 1,900 meters
Soil: Sandy
Cup Characteristics: Very interesting cup that opens up with a sweet, strawberry aroma. Flavors of tart fruits such as raspberry and rhubarb are accompanied by notes of balsamic and a very pleasant acidity at the finish.
Roasting Notes: Light to medium roasts will bring out the delicate fruit flavors and nuances. Natural processed coffees tend to roast faster so keep a close eye as you want to maintain the brightness and pleasant sweetness that this coffee has to offer. On a Behmor try P2 and pull just as second crack approaches.
Costa Rica coffee facts:
Population (2006): 4.1 million People
Coffee Production: 1.7 million bags (60 kg)
Country bag capacity: 150 pounds
Domestic Consumption: 380,000 bags
Coffee Export: 1,320,000 bags
Cultivated Area: 82,500 Hectares (203,775 acres)

Harvest:
September to February

Arabica Introduced: Coffee was first introduced into Costa Rica in 1779 from Cuba. First exportation was in 1820.
Farms: About 32,000, over half are small farms (less than 1 hectare).
Specialty Coffee Regions: Tarrazu, Tres Rios, Central Valley, Pacific Central, South Pacific

Botanical Varietals: Mondo Nuevo, Hibredo/Tico, Villa Sarchi, Geisha, Caturra, Catui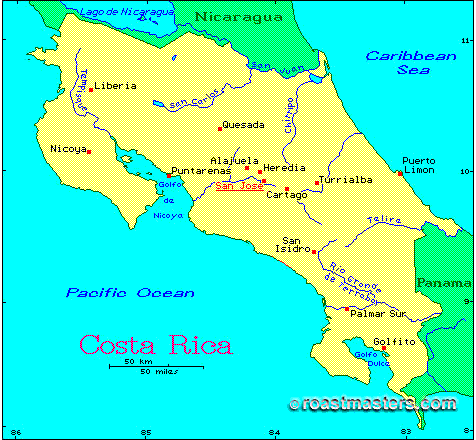 Comments: Coffee is grown in Costa Rica on both the Atlantic and Pacific slopes at altitudes between 1600 and 5400 feet. The highest grade is called Strictly Hard Bean, grown at elevations over 3900 feet. Costa Rica produces some exceptional coffees, renowned for their brilliance, balance and complexity.