Sumatra Mandheling Fair Trade Organic
Available
Volume Price
Pounds
Price LB
1
$6.90
2-4
$6.55
5-19
$6.21
20+
$5.52
About Sumatra Mandheling Fair Trade Organic
Sumatra Mandheling is known for its very heavy, almost syrupy body and its low acidity. This combination makes for a smooth, velvety, yet pronounced cup of coffee. Powerful aroma. Direct and sturdy with nutty flavor.
Our current lot is Gayo Mountain Fair Trade & Organic. The factory, where the beans are processed, is located in Takengon, Sumatra, Indonesia; it is the only one of its kind in North Sumatra producing high quality washed and unwashed coffee. This coffee is organically certified by SKAL to bring Organic Sumatra Arabica to market; it is certified Fair Trade..
Farms range from one to four acres in size and are inter-planted with fruits and vegetables, allowing farmers to be more self sufficient in times of volatility. Farmers are also able to deliver their beans directly to the factory, cutting out middlemen, therefore providing them higher prices for their valuable product, and direct access to export markets. The beans are grown at elevations ranging from 3,200 to 6,000 feet. Most fertilization is done with organic matter because of the high cost of imported fertilizers. This grade 1 Sumatra Mandheling is double picked.
This world-class coffee is grown in the Malay Archipelago of Indonesia near the city of Padang, and it is prepared there by the natural method that employs unchecked fermentation.
Cup characteristics: Earthy, nutty, smooth on the palate. Sturdy, pronounced but not overbearing body.
Roasting notes: C+ to FC are good levels for Sumatra, though it is also highly prized when roasting darker. You will find different taste characteristics at each point: At C+ sweeter, nuttier flavors, less mouthfeel; at FC mouthfeel intensifies and reveals the earthy character; as the coffee roasts longer and caramelizes the body remains with added bittersweet characteristics.

Indonesia coffee facts:
Population (2006): 245.5 Million People
Coffee Production: 6.79 Million bags (60 kg)
Country bag capacity: 132 pounds - 60 kg
Domestic Consumption: 2.14 Million bags per year
Coffee Export: 4.65 Million Bags
Cultivated Area: 250,000 Hectares

Harvests: Year round depending on region with peaks March to June.

Arabica Introduced: Introduced in Java by the Dutch mid 17th century.
Specialty Coffee Regions: Sumatra (Aceh), Java, Timor, Sulawesi (formerly Celebes), Bali.
Grades: Grade 1 triple picked, grade 1 double picked, grade 1 , grade 2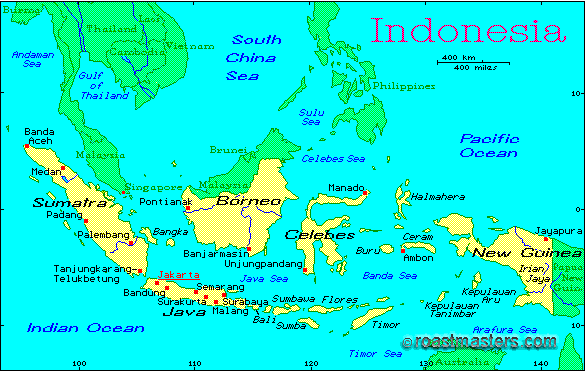 Comments
All Arabica plantations were destroyed in 1877 by a coffee disease.