About Costa Rica Brumas del Zurqui Red Honey
Latest arrival November 2015. This red honey microlot from Costa Rica comes from the Brumas del Zurqui micromill in the Central Valley. A brief explanation of the processing is required to understand the terminology. Since the advent of the micro milling machines, most notably developed by Penagos in Colombia, small farms have the ability to process their own coffee for a somewhat modest cost of entry. These machines use pressurized water mist to strip away the outer skin of the coffee cherry, and they can remove pulp - the fruit surrounding the coffee husk - to a fine tolerance, leaving selective amounts of pulp to dry on the husk. When all the pulp is removed the coffee is fully washed. When a tiny amount of pulp remains it is called yellow honey. A little more pulp red honey (like this coffee), a lot black honey. And when no pulp nor skin is removed natural. Nowhere is machinery in greater use than in Costa Rica where numerous farmers have gone from selling their cherry to large wetmills to processing their own coffee and selling the coffee under their name. To do this requires a keen understanding of growing and processing, so everyone is equipped to join the party. Juan Ramon Alvarado is.
Brumas del Zurqui is Juan Ramon's micromill located in the Central Valley of Costa Rica. Established in 2004 by Juan Ramon Alvarado and Natalia Gomez whose family has been involved in coffee production for over a century. Juan Ramon is a pioneer in honey coffee, which involves analyzing sugar levels in coffee and the amount of mucilage left on the coffee bean after the cherry has been removed. Brumas del Zurqui micromill processes honey and natural coffee only and has a growing reputation for its exceptional coffee production. In the 2015 Cup Of Excellence, Juan Ramon took 2nd place with a score of 90.92 for his El Beneficio farm.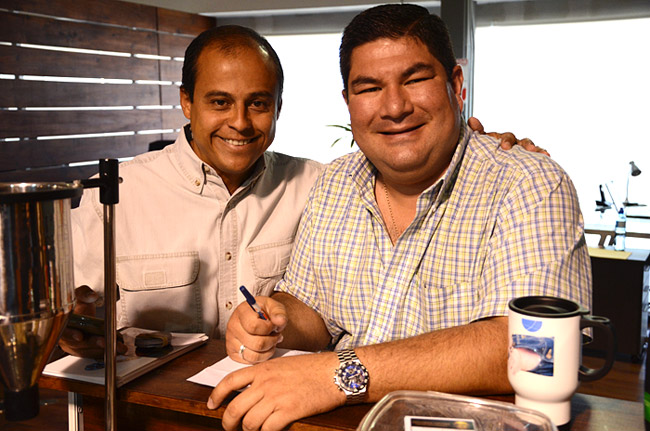 Business partners Francisco Mena and Juan Ramon Alvarado
The El Centro farm is also located in the Central Valley on the Volcan Barba in Heredia. The high elevation and volcanic soil produce ideal conditions for Juan Ramon to grow his outstanding coffee.
Region: Central Valley
Microregion: San Isidro de Heredia
Farm: El Centro
Producer: Natalia Gomez
Micromill: Brumas del Zurqui
Varietal: Villa Sarchi, Caturra
Altitude 1450-1600 meters
Processing Method: Semi-washed (Honey Prep) and Sun Dried
Cup Characteristics: Very sweet aroma with scent of vanilla. Mouth watering start with delicate dry finish.
Roasting Notes: This is a high grown, hard and durable bean that can withstand higher heat. It can be roasted throughout the entire color range but lighter roasts favor delicate fruit flavors and nuances. Coffees like this are best enjoyed by having the roast ended before second crack commences in our opinion.
Costa Rica coffee facts:
Population (2006): 4.1 million People
Coffee Production: 1.7 million bags (60 kg)
Country bag capacity: 150 pounds
Domestic Consumption: 380,000 bags
Coffee Export: 1,320,000 bags
Cultivated Area: 82,500 Hectares (203,775 acres)

Harvest:
September to February

Arabica Introduced: Coffee was first introduced into Costa Rica in 1779 from Cuba. First exportation was in 1820.
Farms: About 32,000, over half are small farms (less than 1 hectare).
Specialty Coffee Regions: Tarrazu, Tres Rios, Central Valley, Pacific Central, South Pacific

Botanical Varietals: Mondo Nuevo, Hibredo/Tico, Villa Sarchi, Geisha, Caturra, Catui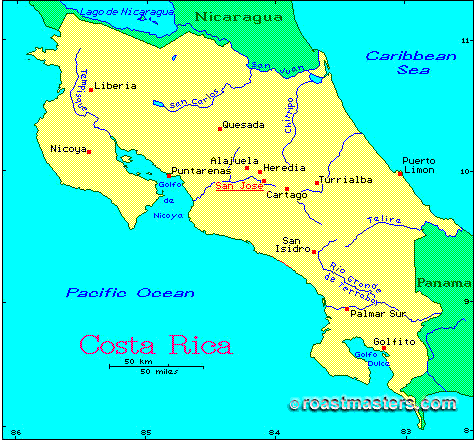 Comments: Coffee is grown in Costa Rica on both the Atlantic and Pacific slopes at altitudes between 1600 and 5400 feet. The highest grade is called Strictly Hard Bean, grown at elevations over 3900 feet. Costa Rica produces some exceptional coffees, renowned for their brilliance, balance and complexity.