Brazil Yellow Bourbon Faz Grota Funda
Sorry, we are currently sold out of 'Brazil Yellow Bourbon Faz Grota Funda'. Please check back later.

Wait List
Volume Price
Pounds
Price LB
1
$6.20
2-4
$5.89
5-19
$5.58
20+
$4.96
About Brazil Yellow Bourbon Faz Grota Funda
This Yellow Bourbon is produced by Fazenda Grota Funda which is located in the South of Minas Gerais state. This is a family owned farm with about 100 acres under plantation, and it produces about 1200 bags of coffee a year. Altitude here ranges from 1000m to 1160m (3280 to 3805 feet). The average annual rainfall is 70 inches, with an average temperature of 59°F to 69.8°F. The cherry of Yellow Bourbons are bright yellow when fully ripe; the cup is very bright and sweet with nutty flavors.
The area is known for its wonderful landscapes made up of valleys, mountains and waterfalls, offering a pleasant climate and excellent quality of life to its inhabitants. All of that is reflected in the farm's production, carried out by fulfilled workers who are connected to the land and who know how to get what it has to offer, responsibly and harmoniously. The property's rich fauna shows birds like canaries, great kiskadees, thrushes, toucans and macaws. The birds live in a large area of native forest made up of araucarias, cedars, trumpet trees, jacarandas, peru balsams, embaiuvas, catinguis, glory trees and many others.
The farm is owned and operated by Glaucio Carneiro Pinto, whose family has always connected him to coffee. He grew up among coffee trees and inherited a love for coffee from his grandfather, but it wasn't until the 70's that coffee became more present in his life. That was when he took over Grota Funda Farm and worked hard to produce his own coffee. His enterprising spirit helped him realize that coffee could change his family's business. He had his first lessons from his father, but he always wanted to learn more, especially when it came to quality and producing a high-quality coffee. He graduated in Business Administration, so he knew the market and its focus on quality, and that was what made his coffee special. In order to do that he's always kept up-to-date machinery and ongoing improvement processes. Nature has been one of his allies: the farm is located in the South of Minas Gerais, an area which features great conditions for producing specialty coffees. When he is asked about what coffee means to him, he says that "coffee is my history". And to keep this history he has great plans for the future: he has been investing in modernizing his structure and equipment, aiming at future certifications. He wants to keep producing great coffee; coffee which is filled with the taste of its origins.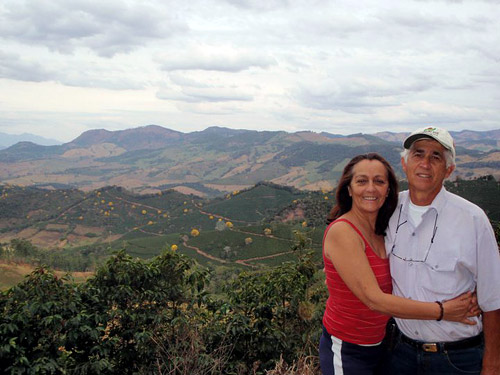 While this coffee is Yellow Bourbon, processed naturally, the farm also produces Yellow Catuai and Acaiá varietals.
Harvesting is manual and processing is natural dry method. This coffee is an excellent choice for traditional brewing methods but also a great candidate for single origin espresso.
Cup Characteristics: Significant notes of chocolate, citrus and bright red fruit. Acidity is medium and sweet with citrus. Long, sweet aftertaste. Earthy, robust, medium heavy body with milk chocolate aftertaste.
Roasting Notes: Depends on your intended use. As an espresso blend component, for which it's very well suited, you can run the gamut from City+, a lightness you might see in Northern Italian styles, but this coffee would be terrific at a Viennese roast level, past second crack but pulled before caramelization. Some might want it darker still but at that point much of the sweetness would be gone.
Brazil coffee facts:
Population (2006): 188 million people
Coffee Production: 44 million bags (60 kg)
Country bag capacity: 132 pounds - 60 kg
Domestic Consumption: 17 million bags
Coffee Export: 27 million bags
Cultivated Area: 2.83 million hectares (over 7 million acres)

Harvests: June-September

Arabica Introduced: Early 18th century via French Guyana
Specialty Coffee Regions: Parana, Sao Paulo, Minas Gerais, Rio De Janeiro, Espirito Santo, Bahia, Pernambuco.
Grades: AA Plus, AA, peaberry
Botanical Varietals: Bourbon, typical, caturra, mondo novo, catuai, maragogype.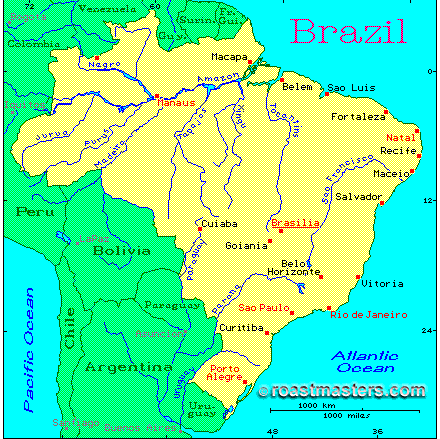 Comments
Brazil is the world's largest coffee producer, offering a wide variety of taste profiles.