Bolivia Aurelio Mamani Organic micro-lot
Sold out.
Wait List
Volume Price
Pounds
Price LB
1
$7.31
2-4
$6.94
5-19
$6.58
20+
$5.98
About Bolivia Aurelio Mamani Organic micro-lot
New crop arrived mid June 2013, packed in grainpro.
We had some lovely Bolivia microlots come our way for review this season and this lot from Aurelio Mamani stood out from a pack of good ones. Aurelio's coffee has placed twice in the top ten of the Bolivia Cup of Excellence, 7th in 2008 and 11th in 2009, the last time it was held there. Aurelio is the father of five young children and his hope is to bring them prosperity through diligently growing quality coffee. This organic farm is fastidiously run.
City: Colonia Kantutani, Rosario Entre Ríos County
Region: Province of Caranavi
Farm elevation: 1561 meters, 5120 feet
Processing Method: Fully washed, drying on raised beds
Soil Type: Silt loam
Annual Precipitation: 1800 mm/year
Shade Tree Type: Inga edulis
Weed Control: 3 times a year
Pruning: Growth productive
Practices: Organic compost from the discarded coffee pulp, use of organic barriers, soil protection.

USDA certified organic. Coffee arrived packed in grainpro.
Cup Characteristics: Honey scented. Piquant liveliness perceived on the sides of the tongue. Earthy, soft mouthfeel. Cinnamon and light caramel notes. Green apple acidity. Long finish. Clear, well balanced coffee.

Roasting Notes: This coffee can successfully be roasted to levels between C+ and FC. Pulling the roast as it begins second crack or even a tad lighter is optimal in our opinion, which preserve some of the coffee's piquancy along with its body. Behmor uses can try P2 or P3.

Bolivia Coffee Facts
Population (2013): 10.5 Million People
Coffee Production: 120,000 bags (60 kg)
Country bag capacity: 132 pounds
Domestic Consumption: 20,000 bags
Coffee Export: 100,000 bags
Cultivated Area: 14,740 Hectares (36,000 acres)

Harvest: April to August

Specialty Coffees: Much of the coffee is processed at cooperatives, some of which are Fair Trade certified.

Botanical Varietals: Caturra, Typica, Criollo.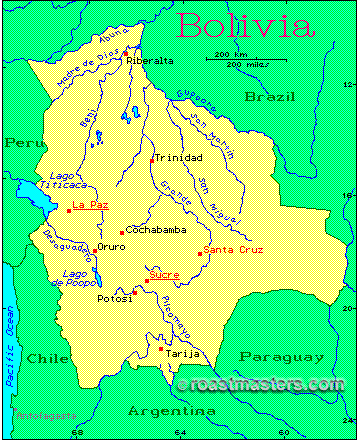 Comments
Approximately 30,000 families rely on coffee for their livelihood. Bolivia is the poorest nation in South America.