Bolivia Peaberry Organic micro-lot
Sold out.
Wait List
Volume Price
Pounds
Price LB
1
$8.08
2-4
$7.68
5-19
$7.27
20+
$6.75
About Bolivia Peaberry Organic micro-lot
New crop Bolivia arrived May 2014
This is a special lot of hand-selected Peaberry coffee from this seasons harvest of Colonia Siete Estrellas (Seven Stars) and Finca Golondrina farms. These two farms are well known for their excellent quality and their organic practices, combined they are a powerhouse of great coffee. We are excited to offer this selection of their Peaberries, which are small round beans that are a rare anomaly affecting around 5% of all coffee grown. One oval seed is formed inside the coffee cherry rather than two flat halves. Some believe that this allows for all the nutrients to intensify in the single bean and create a more intense flavor. For this coffee it has made for a big and beautiful cup.
These farms have organic growing practices and are certified as such ensuring that the health of the farmers and ecosystem are being properly cared for.
Region: Caranavi
Altitude: 5250 Feet
Processing method: Fully Washed
Varietal: Typica, Caturra
Certifications: Organic
Cup Characteristics: Sweet tropical fruit aroma with an effervescent citric like acidity. Dried fruit flavors like raisin and prune, lead to a full bodied and extremely harmonious cup. This coffee has a very nice, long lasting creamy aftertaste.
Roasting Notes: This high grown, oval, dense coffee can withstand a broad range of roasts. Due to its roundness, it will easily move around in the roaster, which some people believe to allow for a much more consistent and evenly roasted coffee. We like it best as it approaches second crack, as this roast level accentuates body. But you can feel equally comfortable backing off a bit and roasting it lighter, or, going further towards a dark roast.

Bolivia Coffee Facts
Population (2013): 10.5 Million People
Coffee Production: 120,000 bags (60 kg)
Country bag capacity: 132 pounds
Domestic Consumption: 20,000 bags
Coffee Export: 100,000 bags
Cultivated Area: 14,740 Hectares (36,000 acres)

Harvest: April to August

Specialty Coffees: Much of the coffee is processed at cooperatives, some of which are Fair Trade certified.

Botanical Varietals: Caturra, Typica, Criollo.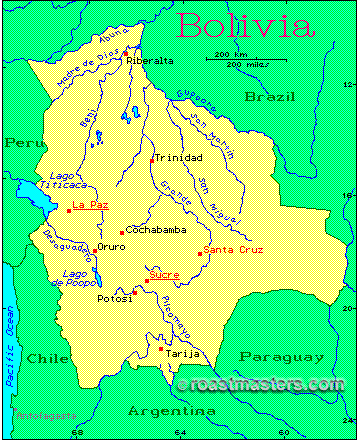 Comments
Approximately 30,000 families rely on coffee for their livelihood. Bolivia is the poorest nation in South America.