Bolivia Braulio Luque Organic micro-lot
Sold out.

Volume Price
Pounds
Price LB
1
$7.88
2-4
$7.49
5-19
$7.09
20+
$6.55
About Bolivia Braulio Luque Organic micro-lot
This organic microlot from Bolivia comes from the Colonia Kantutani Cooperative located in the Caranavi region, farmed by Braulio Luque Yana. The farm sits at about 5,500 feet above sea level in a community called Cima del Jaguar (translated to Jaguar's Peak in English) named for the wild jaguars who roam the land. Braulio, his wife, and his brother all share the farm - but they keep their coffee production separate. In 2009 all three of them placed in the Bolivia Cup of Excellence competition, a testiment to their hardwork and experience. The farm is comprised of 4 hectares and is mostly Caturra varietal with a smaller portion of Catuai. This is one of several nice Bolivia microlots that we came across this year. It is getting more difficult to find good Bolivia coffees in the US.
Origin: Bolivia
Region: Caranavi
Farm/Coop: Colonia Kantutani
Altitude: 5,575 - 6,235 feet
Farm Size: 4 hectares (about 10 acres)
Varietals: Caturra (75%), Catuai (25%)
Processing: Wet washed
Certification: Organic
Grade: A4 (85+) Micro-lot
Crop Year: 2013/14
The coffee is USDA organic certified, and the farm uses organic barriers and erosion control measures. We purchased this coffee in 15kg vacuum packaged bags so the coffee freshness is optimal.
Cup Characteristics: Notes of pepper and chocolate in the aroma. High citric acidity with spicy flavors, a sweet and creamy aftertaste. Long finish.
Roasting Notes: This high grown, coffee can withstand a broad range of roasts. We like it best as it approaches second crack, as this roast level accentuates body. But you can feel equally comfortable backing off a bit and roasting it lighter, or, going further towards a dark roast.
Bolivia Coffee Facts
Population (2013): 10.5 Million People
Coffee Production: 120,000 bags (60 kg)
Country bag capacity: 132 pounds
Domestic Consumption: 20,000 bags
Coffee Export: 100,000 bags
Cultivated Area: 14,740 Hectares (36,000 acres)

Harvest: April to August

Specialty Coffees: Much of the coffee is processed at cooperatives, some of which are Fair Trade certified.

Botanical Varietals: Caturra, Typica, Criollo.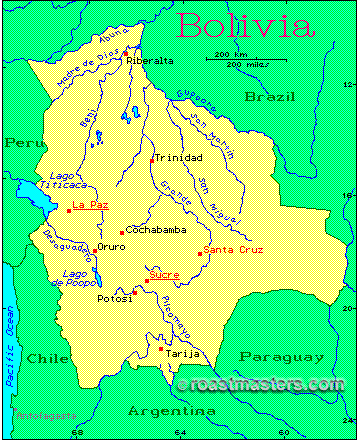 Comments
Approximately 30,000 families rely on coffee for their livelihood. Bolivia is the poorest nation in South America.