Bolivia Martin Hilari Condori Organic micro-lot
Sold out.
Wait List
Volume Price
Pounds
Price LB
1
$9.32
2-4
$8.85
5-19
$8.39
20+
$7.82
About Bolivia Martin Hilari Condori Organic micro-lot
We had some lovely Bolivia microlots come our way for review this season and this lot from Martin Hilari Condori stood out from a pack of good ones. Martin, formerly the president of the Proagra Cooperative Association, a local grower's co-op, now is the leading force a new association called APEASE (Asociacion de Productores Ecologicos de Altura Siete Estrellas). In the past Martin's coffees were entered in the Bolivia Cup of Excellence under the banner of the Proagra Co-op which was credited with the achievement. Today, Martin is establishing his own identity with top quality.
A past top ten national award, Martin runs his organic farm fastidiously, and his involvement with grower's associations puts him at the forefront of area farmers who achieve the best growing practices. Varietal is 100% Typica, shade grown and wet processed on the farm using virgin spring water. Drying is on raised African beds in full sun.
Region/Community: Colonia Siete Estrellas (Seven Stars)
County: Chijchipani
Province: Caranavi
Altitude: 1,700 mts above sea level, 5,600 feet
Soil texture: Clay Loam
Annual precipitation: 1700 mm/year
Type of shade: Forest with Inga Edulis species.
Size of the farm :10 hectares
Area with coffee: 4 hectares
Coffee Varietal: Typica 100%
Processing: Family processing, harvesting of ripe cherries, fully-washed process using virgin spring water.  Sun dried in elevated wooden tables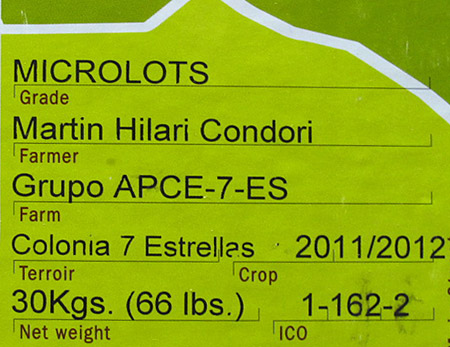 The farm is located in the region of Siete Estrellas (seven stars) in the noted growing province of Caranavi. As mentioned, the coffee is USDA organic, and the farm uses organic barriers and erosion control measures.
We purchased this coffee in 15kg vacuum packaged bags so the coffee freshness is optimal. It arrived at our warehouse late February, 2012 just after arrival in the US. Quantities are limited.
Cup Characteristics: Citrus notes notably orange; floral. Green apple acidity. Sweet caramel, orange, brown sugar, grapefruit. Crisp acidity. Body is creamy and smooth. A well balanced and sophisticated, clean coffee.

Roasting Notes: This coffee can successfully be roasted to levels between C+ and FC. Pulling the roast as it begins second crack or even a tad lighter is optimal in our opinion, which preserve some of the coffee's piquancy along with its body. Behmor uses can try P2 or P3.

Bolivia Coffee Facts
Population (2006): 9 Million People
Coffee Production: 120,000 bags (60 kg)
Country bag capacity: 132 pounds
Domestic Consumption: 20,000 bags
Coffee Export: 100,000 bags
Cultivated Area: 14,740 Hectares (36,000 acres)

Harvest: April to August

Specialty Coffees: Much of the coffee is processed at cooperatives, some of which are Fair Trade certified.

Botanical Varietals: Caturra, Typica, Criollo.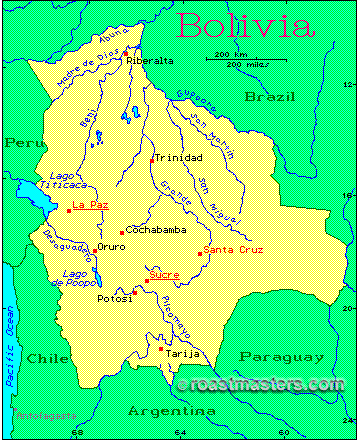 Comments
Approximately 30,000 families rely on coffee for their livelihood.