Bolivia Martin Hilari Organic micro-lot
Available
Volume Price
Pounds
Price LB
1
$8.08
2-4
$7.68
5-19
$7.27
20+
$6.90
About Bolivia Martin Hilari Organic micro-lot
Arrived June 2015 in grainpro. This microlot from Bolivia comes from the Siete Estrellas group, which in English translates to 'Seven Stars'. The farm and cooperative are located in Chijichipani County which is part of the Caranavi Province in Eastern Bolivia. The farm spans 4 hectares (nearly 10 acres) and is at an altitude of 5,300 feet above sea level. The varietal of coffee is Typica and the coffee is wet processed.

Martin Hilari Condori was born in 1970 and migrated with his wife from the Bolivian High Plateau near Lake Titicaca to Caranavi where he has since found great success in the coffee growing industry. Martin is the former president of the PROAGRO Cooperative and is now a leading member of the Siete Estrellas (APEASE) group. Over the past decade Martin has worked rigorously to improve the quality of his crops. This years coffee is a testiment to his dedication and focus on quality coffee. While he has never participated in the Cup of Excellence competition under his own name, he has entered several times through the PROAGRO Cooperative's submissions.

Origin: Bolivia
Region: Caranavi
Grower: Martin Hilari Condori
Farm/Coop: Siete Estrellas (APEASE)
Altitude: 5,300 feet
Farm Size: 4 hectares (about 10 acres)
Varietals: Typica
Processing: Wet washed
Certification: Organic
Crop Year: 2014/15

The coffee is USDA organic certified.

Cup Characteristics: Molasses, brown sugar aromas with milk chocolate body. Acidity is a combination of green apple and citrus with significant crispness complementing the smooth body. Background spice notes. Long, textured finish.

Roasting Notes: This high grown, coffee can withstand a broad range of roasts. We like it best as it approaches second crack, as this roast level accentuates body. But you can feel equally comfortable backing off a bit and roasting it lighter, or, going further towards a dark roast.

Bolivia Coffee Facts
Population (2013): 10.5 Million People
Coffee Production: 120,000 bags (60 kg)
Country bag capacity: 132 pounds
Domestic Consumption: 20,000 bags
Coffee Export: 100,000 bags
Cultivated Area: 14,740 Hectares (36,000 acres)

Harvest: April to August

Specialty Coffees: Much of the coffee is processed at cooperatives, some of which are Fair Trade certified.

Botanical Varietals: Caturra, Typica, Criollo.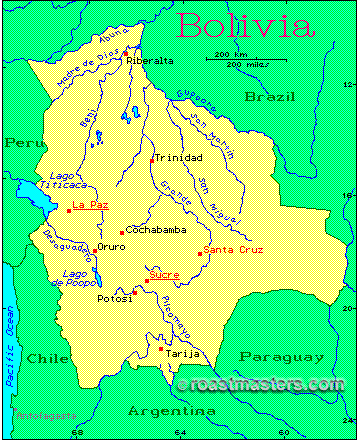 Comments
Approximately 30,000 families rely on coffee for their livelihood. Bolivia is the poorest nation in South America.