Bolivia Bolinda Caranavi
Sorry, we are currently sold out of 'Bolivia Bolinda Caranavi'. Please check back later.


Volume Price
Pounds
Price LB
1
$8.31
2-4
$7.89
5-19
$7.48
20+
$6.99
About Bolivia Bolinda Caranavi
This new crop from Bolivia arrived in August 2013. The name Bolinda is the junction of the words "Bolivia" and "linda" which in Spanish translates to "beautiful Bolivia". The farm is located in the municipality of Caranavi which is part of the city of La Paz, at almost 1500 meters (4950 feet) above sea level. The farm has been in operation for over 10 years and grows a number of varietals, mostly Caturra but also some Catuai and Typica.
While you are buying the coffee and not its bag it's worth mentioning that this coffee arrived in gorgeous bags made of multicolored fiber, not burlap or jute. Within these lovely bags are grainpro liners so this coffee has gotten a double dose of preservation and isolation from taints. The staff here was wowwed by the bags.
The coffee grows from sandy clay soil and is shaded by citrus trees. Harvest was from May to September and then processed in the traditional method at the Beneficio Buenavista, finally being dried on covered African drying beds. The coffee is then milled and exported by a cooperative called Agricafe, also located in La Paz. Agricafe has been involved in coffee for about 25 years and aims at putting Bolivian coffee in the international specialty coffee market, reaching 90% of the coffee producing areas in the country.
GEOGRAPHICAL INFO:
Country: Bolivia
City: La Paz
Municipality: Caranavi
Province: Canton Bolinda
Altitude: 1485 Meters

AGRONOMY:
Farmer: Pedro Pablo Rodriguez
Varietals : Typica 10% Catuai 20% Caturra 70%
Plant Age: 10 to 15 Years
Shade: Inga and others
Soil Type: Sandy clay

COFFEE PROCESS:
Type: Traditional Washed  By Beneficio Buenavista
Fermentation: 19 hours
Drying: Covered African Beds
Dry Milling and Exportation by: AGRICAFE
Cup Characteristics: Clean, subtle, sweet with notes of peaches. Silky all the way through. Some light, geisha mouthfeel but without the florality.
Roasting Notes: High growth, hard bean can run the gamut from light to dark. On Behmors try P2 or P3.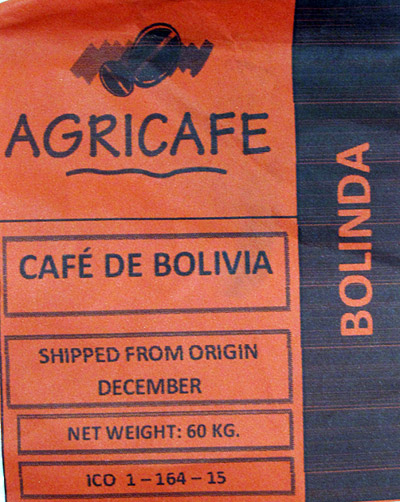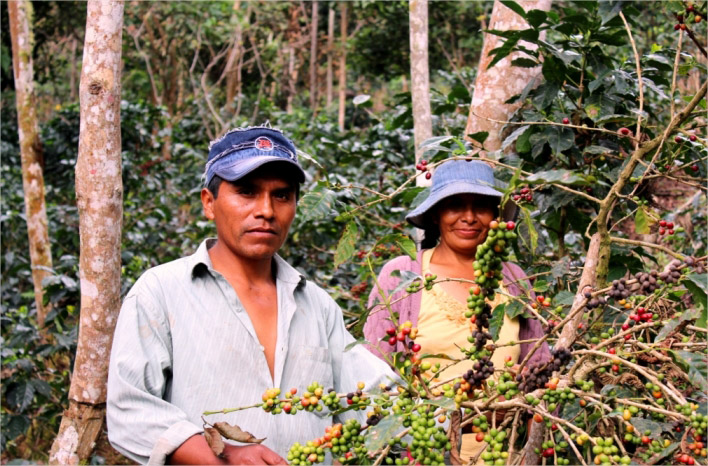 Feliz Copa and Condori Quispe Basilia working on the farm
Bolivia Coffee Facts
Population (2013): 10.5 Million People
Coffee Production: 120,000 bags (60 kg)
Country bag capacity: 132 pounds
Domestic Consumption: 20,000 bags
Coffee Export: 100,000 bags
Cultivated Area: 14,740 Hectares (36,000 acres)

Harvest: April to August

Specialty Coffees: Much of the coffee is processed at cooperatives, some of which are Fair Trade certified.

Botanical Varietals: Caturra, Typica, Criollo.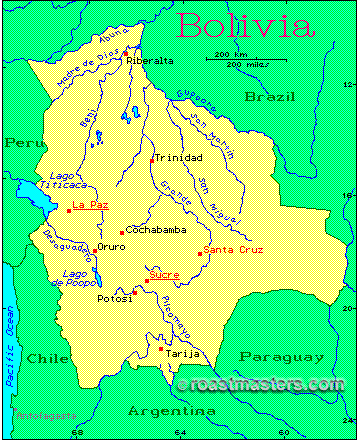 Comments
Approximately 30,000 families rely on coffee for their livelihood. Bolivia is the poorest nation in South America.