Bolivia Fair Trade / Organic
Available
Volume Price
Pounds
Price LB
1
$7.12
2-4
$6.76
5-19
$6.41
20+
$5.80
About Bolivia Fair Trade / Organic
New crop has now arrived (November, 2012) and is very nice cup with smooth, broad body. It is from the Illampu Cooperative ( formally Cooperativa Agropecuaria de Comercializacion Corpus Cristi Illampu Ltd) in Caranavi. This is a very small cooperative where farmers sell their coffee for processing and almost all of it is certified organic. Illampu is one of thirty cooperatives that is part of a larger organization called FECAFEB. FECAFEB, in turn, provides environmental training and quality improvement assistance to the cooperatives, as well as affordable financing for individual producers. Even with all of the member organizations and their respective members counted, the Fair Trade producers represented total area under coffee production is only about 1500 acres, indicating how tiny invidual holdings are.
FECAFEB helps their members achieve Fair Trade certification and provides with critical access to international markets. The premiums earned from Fair Trade help to fund low interest loans to growers and pay for some of the transportation involved in getting coffee to market. Caranavi Province is high in the mountains of western Bolivia. The area is known as "humid sub-tropic forest", with elevations ranging from 4225-5850 feet. The average size of area organic coffee farms are from 3 to 11 acres. The local terrain is rugged and steep, the forest is lush and beautiful. One of the main forest tree species here is Mahogany.
Local coffee trees are mainly classic, older cultivars: Typica and Bourbon. During the harvest period there are three cherry pickings: March-April, May-June, and August-September. The coffee cherries are hand picked, usually by the women in the communities, when the cherries reach full maturity.

Cup Characteristics: The coffee is slightly spicy, full to heavy bodied, mild acidity and has good balance. This is a particularly flavorful lot and we deepened our commitment after cupping our pre-arrival samples.
Roasting Notes: This high grown, dense coffee can withstand a broad range of roasts. We like it best as it approaches second crack as it accentuates the body. But you can feel equally comfortable backing off a bit and roasting it lighter, or, going further towards a dark roast.
Bolivia Coffee Facts
Population (2006): 9 Million People
Coffee Production: 120,000 bags (60 kg)
Country bag capacity: 132 pounds
Domestic Consumption: 20,000 bags
Coffee Export: 100,000 bags
Cultivated Area: 14,740 Hectares (36,000 acres)

Harvest: April to August

Specialty Coffees: Much of the coffee is processed at cooperatives, some of which are Fair Trade certified.

Botanical Varietals: Caturra, Typica, Criollo.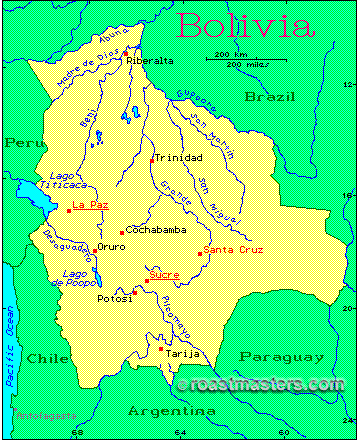 Comments
Approximately 30,000 families rely on coffee for their livelihood.