About Ethiopia Kemgin - Ninety Plus
Arrived September 2015, new crop, packed in boxed grainpro.
Back again this year, Kemgin is another fine coffee is from Ninety-Plus but this is a washed coffee from Ethiopia, a departure from the work they more frequently do with natural processing. Ninety Plus is a US company that has been working for some years in Ethiopia to develop coffees of real distinction. We are concurrently offering Geredawha and last year we offered Tchembe, both of which were very popular among our natural fans. Kemgin selections are lively with lemongrass and subtle ginger. Kemgin coffees have been produced in Wellega, Sidama, and Yirgacheffe.
This coffee is grown at an extreme altitude between 1800-2050 meters, making it some of the highest grown coffee we have encountered. The beans a smallish though not so small that it should present a problem with any of the home roasters we sell. We had no problem roasting it in a Behmor with the latest grid design.
Joseph Brodsky, founder of Ninety Plus places emphasis on coffee cherry processing, which is what they attribute to be the most important element toward producing great coffee. They have made an art out of working on the processing side and they consider themselves 'coffee makers' rather than producers. Brodsky dries this coffee at the wetmill rather than on traditional raised beds. His method emphasizes drying the coffee to predetermined moisture level with a specific time span; in other words the process invokes more control than traditional methods that utilize sun, warmth and turnover of the beans. The result is a particularly clean, crisp and elegant coffee, truly unique to the area where wilder, more extreme flavor characteristics are more the norm.
Location: Chalalacktu, Oromia, Nekempte
Elevation: 1800-2050 meters
Varietal: Mixed Heirloom

Cup Characteristics: Per Ninety Plus - Ginseng, lemon, green tea, slight orange and ginger. Our comments - Whistle clean, juicy, dark fruit, bergamot. Very succulent with flavors invoking fleshy fruit like papaya, guava, ripe pear. Soft, long finish. Uncharacteristic flavor profile for this region displaying processing prowess. Light coconutu flavor on the back of the palate.
Roasting Notes: Smallish uniform beans. Very hard and concentrated due the elevation where grown. Should be roasted lightly to enhance its subtle but distinguishable nuances. We stopped this roast just past first crack and it seemed ideal. Second crack had not yet started at all. On a Behmor a P2 worked well; P1 could be utilized too.
Ethiopia coffee facts:
Population (2206): 75 Million People
Domestic Consumption: 1.5 Million bags per year
Coffee Export: 1.5 Million Bags of 60 Kg. (132.29 lb.)
Cultivated Area: 400,000 Hectares (988,000 Acres)

Harvest:
-- Unwashed: October to March
-- Washed: end of July to December

Arabica Introduced: The birthplace of coffee. Oldest recognized country of origin for uncultivated Arabica species.

Farms:
331,130 (94%) Smallholdings (less than or equal to 2.47 acres)
19,000 (6%) Government

Specialty Coffees:
Washed: Sidamo, Yirgacheffe, Limu, Bebeka
Unwashed: Harrar, Sidamo, Djimmah, Lekempti (wild coffee trees)

Botanical Varietals: Numerous indigenous cultivars.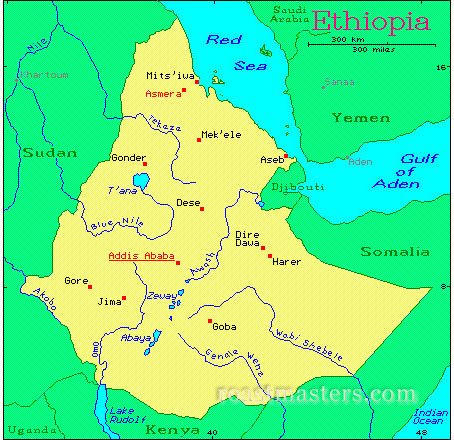 Comments
About 50% of the coffee produced in Ethiopia is consumed there as the population has a rich coffee drinking culture, replete with ceremony and tradition.